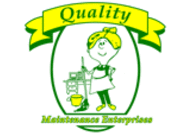 Just over 41 years ago, Lori Cummings helped two of her friends move from Illinois to Montana. Her goal was to drive a cab in order to support herself while she finished her Degree in Psychology at the University of Montana. While camping with her two friends, Lori looked at the mountains around her and realized that she was finally home. If you had told her then that she would one day be celebrated for her dedication to helping those with disabilities succeed in the workplace through a highly successful cleaning company, you would have been met with disbelief. But life has a way of throwing us curveballs — if we can adapt, we can hit a home run.
Growing up, Lori helped her Dad clean apartment buildings. She knew what it took to ensure a good clean. After arriving in Missoula, she discovered that you have to be over the age of twenty-five to drive a cab, and had to find something else. She fell back on her skills and training and opened Quality Maintenance Enterprises, providing commercial cleaning to the Missoula area. The business took off and Lori put her Psychology degree on hold. As of August 2017, that degree has been on hold for forty years.
Over the decades Lori prides herself in the fact that she has never been a day late for a payroll run. She has never bounced a check, and she has always followed the notion that her word is her bond. While it may sound cliché, if you follow the Golden Rule, you set yourself up for success in the business world. But the dedication to the business, the hard work, and the attention to details aren't the biggest factor that sets Quality Maintenance apart from the rest; it is their dedication to provide opportunities to people; especially to those that are often overlooked.
LORI CUMMINGS
QUALITY MAINTENANCE ENTERPRISES
We Trade Network Member
At any given time Quality Maintenance employs roughly seventy people. Around one-third of them are individuals with disabilities. Commercial cleaning is highly adaptable; modifications and accommodations can be made to help people be successful. Lori's viewpoint is that she has been put in a place where she can make a difference, so why not make the maximum difference possible?
For several years Lori has sat on an Advisory Committee for Opportunity Resources. This local Non-Profit Group is dedicated to supporting persons with disabilities by enhancing their quality of life. In 2015 Lori's dedication to those who are so often marginalized was rewarded with an Eva Amundson Award, named after one of the Founders of Opportunity Resources. What made it extra special was that Ms. Amundson sat with Lori and shared her amazing story, despite being over 100 years old at the time.
Lori's aspires to create a company with such a culture of respect that her employees love coming to work every day. And as long as she is creating jobs, she has reached out to those who would otherwise be passed over. In the cleaning industry it really only takes a strong desire to work, and Quality Maintenance can help with the rest. By creating a culture of respect, the employees pass that respect on to the clients. When the clients and the employees are both taken care of, long-term relationships are the result; and in an industry that's as competitive as commercial cleaning, those relationships are increasingly rare.
Over the years she has built her business with the philosophy to leave the place as good, or better than it was found. Because of that Quality Maintenance only uses green products and sustainable practices as to leave as little impact on this little slice of paradise that we get to call home.
Over the last four decades, Lori has lost track of how many times she has shown up in the middle of the night to clean, and couldn't get into the building. The next morning she received a call wondering why nothing was cleaned. Whether you have Quality Maintenance Enterprises clean your building, or you employ a different cleaner, make sure you tell your cleaning crew when you've changed your locks!