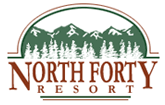 Here in Montana, we have a variety of addictions. Most of us are addicted to the mountains. Some are addicted to fishing, others hunting, and still others four-wheeling. Hiking, sightseeing, wildlife viewing, and boating claim a special spot in many. And in still others, it is simply escaping the city life and relaxing in the most beautiful state in the country. The Gentry family gets to fuel all of those addictions through North 40 Resort, all while fueling their own. The Gentrys and the rest of the staff are addicted to happy customers.
Back in 1993, there were 22 log cabins built on 40 acres in the Flathead Valley. These cabins were outfitted with many of the luxuries that a modern home would include, but they maintained the secluded and rustic feel of cabin life. They sleep 4 to 6 people, and 9 of them are pet-friendly. Over the years visitors on their way to Glacier National Park, or just looking for a Montana getaway, have been able to experience Montana in a relaxing atmosphere. The reputation was built, and when the original owners decided it was their time to relax and experience more of Montana, the Gentrys took over.
In 2015, after ownership changed, the Gentry Family made the accommodations a little nicer. Upgrading the little things that we often take for granted, like showerheads, duvet covers, and curtains, the resort was transformed and taken from what could be considered a 3-Star Resort to a 4-Star Resort (at least as far as cabin rentals go). Combined with a bigger emphasis on serving the local community as a venue to hold meetings, host a wedding, or provide a staff retreat, and the resort has flourished. But it hasn't flourished because of any superior marketing plan or the cabin upgrades. The biggest reason that North 40 remains one of the most highly rated vacation rentals in the area is largely due to how the guests are made to feel.
The idea is simple. North 40 provides a comforting home base so you can get out and be adventurous in the Montana wilderness nearby. You can push yourself hard, and wear yourself out because you know that a comfortable cabin is waiting for you. Each of those cabins is equipped with air conditioning, a full kitchen, gas fireplaces, indoor plumbing (some of the cabins even have two bathrooms), and comfortable beds. But you don't have to be an outdoorsman to find comfort here. For those that aren't looking to push themselves to the max, there are 20 acres of hiking trails and dog walking trails on the property where they can go for relaxing strolls.
KIRK GENTRY
North 40 Ranch
We Trade Network Member
Twenty Four years ago, the Gentry family planted their roots and made the decision to call Montana their home. Since coming here they have been working in the Outfitting & Vacation Rental Industry, and have had a blast serving the Community and those visiting our great state. The Family is very involved locally serving with various charitable organizations, holding Memberships in Chambers and Rotary, and a handful of other involvements. Providing the Montana experience is just an extension of what they have come to love, and along with ten employees, the family helps to create an experience that guests will never forget.
North 40 was designed to meet the needs of those looking for a weekend getaway, a chance to explore Montana or those that need a great place to host an event.  It's all summed up in their company motto: "We'll do our best, to serve our guests, and we'll have fun, getting the job done."
When asked about the inspiration behind the business, Kirk explained that it was all about helping people fall in love with the state that we have all fallen in love with.
Kirk says, "We make a living sharing Montana. Come feel Montana."